Welcome to the Heroes Tactics: Mythiventures Wikia
Edit
This is a wikia for the mobile game Heroes Tactics: Mythiventures by Camex Games. It is focused on objective game information for reference, so head over to the Heroes Tactics Forum to discuss strategy. Here are some video guides to help you get started.
Also check out Elhana's reference sheet for equipment.
Current game version: v1.5.5 (version varies by platform).
This wiki is currently only formatted for desktop. Browsing on your phone will be less organized and some graphics will appear wrong.
Heroes (Max Stats and Calculator)
Equipment
Stages (Bonus Stages)
Scrimmage Tower
Boss Endurance Mode
Arena
Sky Arena
Live Arena
Stores
EXP
Damage Reduction
Wishing Ponds
About the Game
Edit
Heroes Tactics: Mythiventures is a popular turn-based, tactical RPG game for WP, iOS and Android, Created by Camex Games. It was first published for WP by SC Mobile on September 22(?), 2015, then for Android by Camex Games on November 17(?), 2015, and for iOS on November 19(?), 2015.
Heroes Tactics: Mythiventures is a game where you lead a team of heroes on their journey to save Princess Loralyn from the demon Morpheus who captured her. You play as a summoner who summons and commands a band of unique heroes to battle devious creatures that stand in your way. As you defeat them, you will collect loot containing gold, weapons, armor, and magical equipment to make your heroes increasingly powerful. Heroes Tactics: Mythiventures features over 30 unique heroes to collect and train. Lead teams of 5 of your best heroes into battle to conquer campaign missions, beat training and PVE scenarios, and to challenge other players in online arenas for worldwide rankings. Play and chat with players from around the world and form alliances in guilds. Free prizes and tasks with rewards are available daily. If you can master the turn-based tactical combat you could save the Princess Loralyn from the evil demon and save the mortal kingdom!
Although Heroes Tactics: Mythiventures is a Free-to-Play game, additional in-game currency can be purchased for real money from the Apple App Store/Google Play Store in the form of In-App Purchases. Through the VIP level system, some features are only open to players who have invested real money into the game.
Latest activity
Edit
Photos and videos are a great way to add visuals to your wiki. Find videos about your topic by exploring Wikia's Video Library.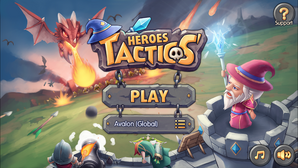 Community content is available under
CC-BY-SA
unless otherwise noted.