English text
Google Translate:

The program contains a database of subjects, heroes and their abilities with detailed information about each of them. Capable of calculating the character's parameters and rating, setting the necessary parameters and levels of enchanting items. In addition, can show how many and what items are needed in order to fully equip the character. In addition, the program provides a function for comparing characters by parameters for different settings.

It is also worth noting that there is an opportunity to get information about the subject, namely what character it is needed and in which slot. And it is possible to identify at what stages the character is added one or the other parameter to the stats.

It is worth noting that:
Conception is not established for items for which there is no data;
Values of the stat may differ from the true one by 1 unit. In the smaller side;
The calculated rating of the Phoenix differs from the true one (about 320 units more at 5 * .To be harder to say from the little data).
Download here (upd.22.07.2017)
Download language:
English (in archive with program)
P.S. Put in the folder with the program. Open program and select the language.
Программа содержит в себе базу данных по предметам, героям и их способностям с детальной информацией о каждой из них. Способна рассчитывать параметры персонажа и его рейтинг, установив необходимые параметры и уровни зачарования предметов. В добавок может показывать сколько и каких предметов необходимо для того, чтобы персонажа снарядить полностью. Кроме того, в программе предусмотрена функция сравнения персонажей по параметрам при разных настройках.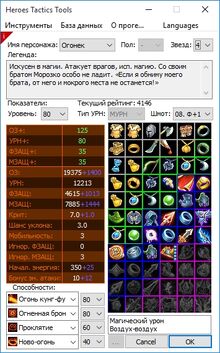 Так же стоит отметить, что присутствует возможность получить сведения о предмете, а именно какому персонажу он нужен и в какой слот. А возможно выявить на каких этапах персонажу добавляется тот или иной параметр к статам.
Стоит отметить, что:
зачарования не устанавливаются у предметов, для которых нет данных;
значения стат может отличаться от истинного на 1 ед. в меньшую сторону;
рассчитанный рейтинг Феникса отличается от истинного (примерно на 320 ед больше при 5*. точнее сказать сложно ибо мало данных).
Баги скидываем на почту, указанную в программе во вкладке меню "О проге...". С указанием, что за баг и при каких обстоятельствах он произошел. Скриншоты приветствуются).
Ссылка на скачивание - здесь
Community content is available under
CC-BY-SA
unless otherwise noted.